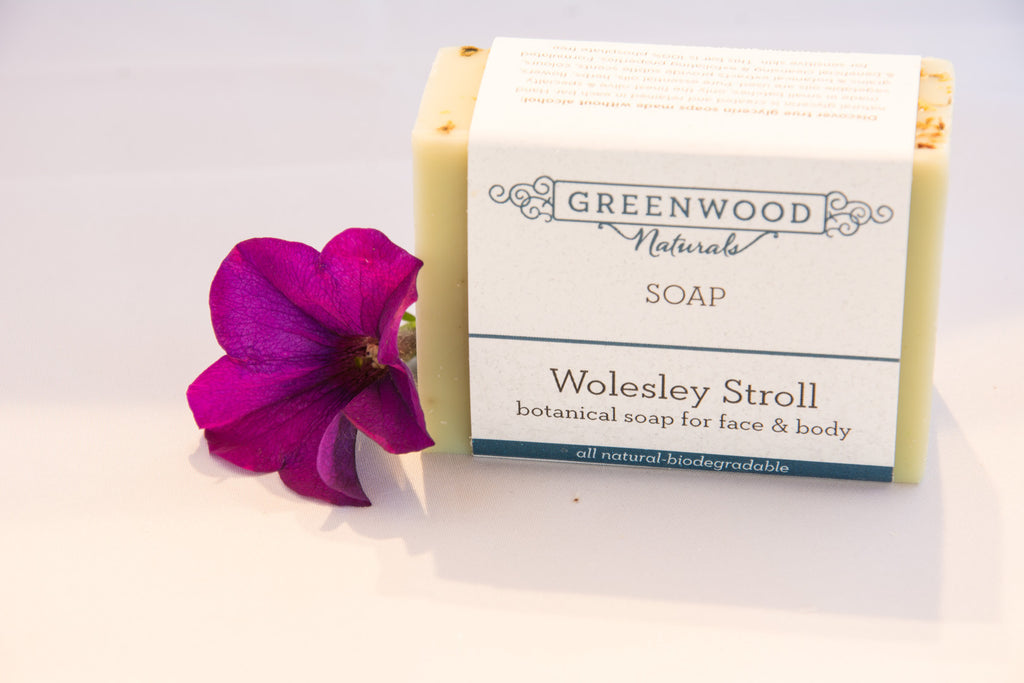 Wolseley Stroll Botanical Soap
Wolseley is a neighbourhood known to Winnipeggers as the "hippy", "crunchy", "granola" part of town. This bar is evocative of taking a warm summer stroll down Wolseley avenue. Smelling backyard garden herbs and flowers in the air mixed with incense wafting from somebody's porch. A truly captivating blend of fragrances.
This is a true glycerin soap, made without alcohol. Natural glycerin is created and retained in each bar. Hand made in small batches, only the finest olive and speciality vegetable oils are used. Pure essential oils, herbs, flowers, grains and botanical extracts provide subtle scents, colours and beneficial cleansing and exfoliating properties. Formulated for sensitive skin. This bar is 100% phosphate free.
Ingredients: sodium olivate (olive oil), sodium cocoate (coconut oil), aqua (water), mentha piperita (peppermint) oil, pogostemon cablin (patchouli) oil, lavandula officinalis (lavender) oil, rosmarinus officinalis (rosemary) oil, consolida ambigua (blue larkspur) flower, calendula officinalis flower, rosa centifolia (rose) flower, rosmarinus officinalis (rosemary) leaf extract.
Caution: avoid eye contact
Note: natural soap absorbs moisture, we recommend keeping it out of water by using a soap saver in your soap dish. With the purchase of 4 or more soaps, you get a free soap saver or you can add one to your shopping cart for only 1.00$.