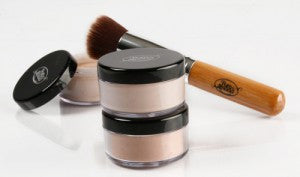 Large Size Loose Mineral Foundation
Pure Anada mineral foundation has the ability to provide full coverage, while still feeling light and natural. No more silicone based foundations that can stifle your pores. With Pure Anada your skin can "breathe". This results in a healthier, younger looking complexion.
The mineral ingredients in Pure Anada have properties that are beneficial to your skin! For example: Titanium Dioxide reflects the sun's harsh rays away from your skin. Zinc Oxide sooths irritation, and Silica blurs fine lines and wrinkles.
Ingredients:
Mica, Titanium Dioxide, Zinc Oxide, Silica, Boron Nitride, Iron Oxides, Ultramarines Note: Deeper, global foundation shades do not contain Titanium Dioxide.
Size: approx 10g