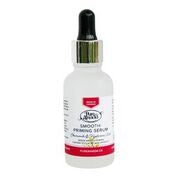 Smooth Priming Serum
Help smooth fine lines and wrinkles by plumping and hydrating skin tissue. Pure Hyaluronic acid holds 1000 times its weight in moisture, while Chamomile floral water helps to sooth irritated skin. Use during the day instead of cream to prep skin for makeup or use under the hydrating cream to eliminate fine lines.
Recommended for aging and dehydrated skin.
Suggested Use: Apply 2-3 drops on freshly washed skin, prior to moisturizing.
Ingredients: Chamaemelum nobile (Chamomile Floral Water), Sodium Hyaluronate (Hyaluronic Acid)