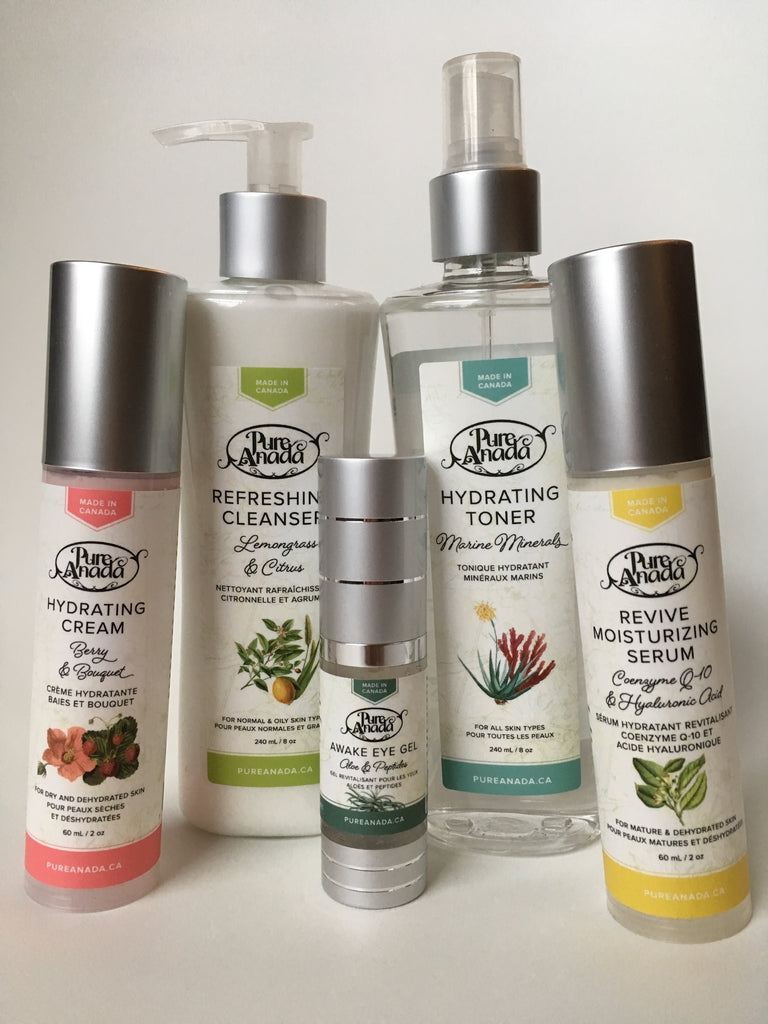 Anti-Aging Skincare System (NEW)
A complete system to care for your face. Following a regular routine will lead your skin moisturized and glowing.
Includes Full sized bottles of the following:
Lemongrass & Citrus Refreshing Cleanser: Whisk away makeup and oils with this natural, creamy cleanser. The lovely, fresh scent of organic lemongrass essential oil will have you addicted!
Marine Minerals Hydrating Toner: Balance your skin with this nourishing toner. This amazing product will close pores, adjust the pH of your skin, and remove any remaining cleanser.  It readies your face for applying mineral foundation. The hyaluronic acid in the formula helps to plump and hydrate skin cells, without leaving an oily residue.
Berry & Bouquet Hydrating Cream: This moisture intensive cream will hydrate and plump your skin cells with organic shea butter, and argan oil. Strawberry fruit tones and tightens pores, while hibiscus extract reverses the signs of aging.
Revive Moisturizing Serum: A luxurious anti-aging serum formulated with intense Co-Enzyme Q-10 anti-oxidants and cell plumping Hyaluronic Acid. Olivem®1000 Crystal Skin Technology combined with lightweight, organic Sunflower Oil and fresh citrus hydrosols deliver a deep tissue, hydrating and firming treatment. This moisturizer has a light, citrus scent from the neroli hydrosol. 
Awake Eye Gel: Pure Anada Awake Eye Gel is a multi-peptide formula which contains ingredients that have been clinically proven to reduce existing facial wrinkles and puffy eyes. It's a non-greasy, aloe based formula that does not interfere with makeup application.